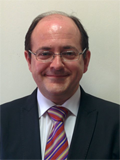 Arturo de la Escalera Hueso
Position: Full Professor
Email: escalera[at]ing.uc3m.es
Telephone: +34 916249480
Address: Avda de la Universidad 30, 28911, Leganés, Madrid
Office: 1.3.B.08
Brief Bio
Arturo de la Escalera, PhD, graduated from Universidad Politecnica de Madrid (Madrid, Spain) in Automation and Electronics Engineering in 1989, where he also obtained his Ph.D. degree in Robotics in 1995. In 1993, he joined the Department of Systems Engineering and Automation at Universidad Carlos III de Madrid (Madrid, Spain), where he became an Associate Professor in 1997 and Full Professor in 2018. Since 2005, Arturo de la Escalera is Director of the Intelligent Systems Lab (LSI).
His current research interests include Advanced Robotics and Intelligent Transportation Systems; with special emphasis on Vision Sensor Systems and Image Data Processing methods for environment perception and real-time pattern recognition.
He has supervised twelve PhDs related with these topics, at which four of them received the award for Best University PhD Award. He has co-authored 37 articles in journals and nearly 90 papers in international conferences. He wrote the book "Visión por Computador: fundamentos y métodos", which was published in 2001 by Pentice Hall, one of the few books about this topic written in Spanish. Up to today, he has worked in 21 public funded research projects, at which he lead 7 of them. Besides, he has worked on 19 projects in collaboration with private companies.
Currently, he is coordinator of the Spanish Computer Vision Group at the Comité Español de Automática. He is member of the Editorial Board of the International Journal of Advanced Robotic Systems: Robot Sensors (Intech); Revista Iberoamericana de Automática e Informática Industrial (Elsevier), Sensors (MDPI) and Electronics (MDPI). He has taken part in several conference international committees and he is reviewer of numerous conferences and journals. He has organized the especial session about Computer Vision for Robotics and Automation in the 6th Iberian Conference on Pattern Recognition and Image Analysis 2013, Data Fusion in Intelligent Transport Systems in the 17th International Conference on Information Fusion 2014, and the Workshop on Autonomous Vehicles in Off-Road Scenarios for the IEEE Intelligent Vehicles Symposium, 2016. He was Tutorials/Workshops Chair for the 2018 IEEE International Conference on Vehicular Electronics and Safety.
He spent a Sabbatical Year at Queen Mary University London from October 2014 to February 2015.
Projects
Urbanita Urban Information Assistant for Safer Driving (2016-18)
Publications
 P. Marin-Plaza, A. Hussein, D. Martin and A. de la Escalera. Global and Local Path Planning Study in a ROS-Based Research Platform for Autonomous Vehicles, Vol: 2018, pp:1-10, 2018
A. Al-Kaff, D. Martín, F. García, A. de la Escalera, J.M. Armingol. Survey of Computer Vision Algorithms and Applications for Unmanned Aerial Vehicles. Expert Systems With Applications, Vol: 92, pp: 447-463, 2018
F. García, D. Martin, A. de la Escalera, J.M. Armingol. Sensor Fusion Methodology for Vehicle Detection. IEEE Intelligent Transportation Systems Magazine, Vol: 9, pp: 123-133, 2017
A. Al-Kaff, F. García, D. Martín, A. De La Escalera, J.M. Armingol. Obstacle Detection and Avoidance System Based on Monocular Camera and Size Expansion Algorithm for UAVs. Sensors, Volumen: 17 (5), 2017.
B. Musleh, D. Martín, J.M. Armingol, A. De La Escalera. Pose Self-Calibration of Stereo Vision Systems for Autonomous Vehicle Applications. Sensors, Vol: 16, pp:1-21, 2016
A. de la Escalera, E. Izquierdo, D. Martín, B. Musleh, F. García, J.M. Armingol. Stereo Visual Odometry in Urban Environments Based on Detecting Ground Features. Robotics and Autonomous Systems, Vol: 80, pp: 1-10, 2016
M.J. Gómez, F. García, D. Martín, A. de la Escalera, J.M. Armingol. Intelligent Surveillance System based on Computer Vision and 3D Point Cloud Fusion. Expert Systems With Applications, 2015
D. Martín, F. García, B. Musleh, D. Olmeda, G. Peláez, P. Marín, A. Ponz, C. Rodríguez, A. Al-Kaff, A. de la Escalera, J. M. Armingol. IVVI 2.0: An Intelligent Vehicle based on Computational Perception. Expert Systems With Applications, Vol: 41, pp: 7927-7944, 2014
F. García, G. Peláez, J.M. Armingol, A. de la Escalera. Driver Monitoring Based on Low-Cost 3D Sensor. IEEE Trans. on Intelligent Transportation Systems, Vol: 15 (4), pp: 1855-1860, 2014
F. García, J. García, A. Ponz, A. de la Escalera, J.M. Armingol. Context Aided Pedestrian Detection for Danger Estimation Based on Laser Scanner and Computer Vision. Expert Systems With Applications, Vol: 41 (15), pp: 6646-6661, 2014
F. García, F. Jiménez, J.J. Anaya, J.M. Armingol, J.E. Naranjo, A. de la Escalera. Distributed Pedestrian Detection Alerts based in Data Fusion with Accurate Localization. Sensors, Vol: 2013, pp: 11687-11708, 2013
D. Olmeda, C. Premebida, U. Nunes, J.M. Armingol and A. de la Escalera. Pedestrian Detection in Far Infrared Images. Integrated Computer-Aided Engineering, Vol: 20 (4), pp: 347-360, 2013
Context-aided Sensor Fusion for Enhanced Urban Navigation. E.D. Marti, D. Mart'n, J. Garcia, A. De la Escalera, J.M. Molina, J.M. Armingol. Sensors. 2012
Recognition stage for a speed supervisor based on road sign detection. J.P. Carrasco, A. de la Escalera, J.M. Armingol, Sensors, Vol. 12 (9), pp. 12153-12168, 2012
Detection and classification of road signs for automatic inventory systems using computer vision. G. A. Pelaez, M. Romero, J.M. Armingol, A. de la Escalera, J.J. Munoz, W. van Bijsterveld, J.A. Bolano. Integrated Computer-Aided Engineering, Vol. 19, pp. 285-298, 2012
Environment Perception based on Lidar Sensors for Real Road Applications. F. Garcia, F. Jimenez, J.E. Naranjo, J.G. Zato, F. Aparicio, J.M. Armingol, A. de la Escalera. Robotica, Vol. 30, pp. 185-193, 2012
Driver drowsiness detection system under infrared illumination for an intelligent vehicle. M. Flores, J.M. Armingol, A. de la Escalera. IET Intelligent Transport Systems, Vol. 5 (4), pp. 241-251, 2011
Limitations of Positioning Systems for Developing Digital Maps and Locating Vehicles According to the Specifications of Future Driver Assistance Systems. F. Jimenez. J.E. Naranjo, J.M. Armingol, F. Garcia, J.G. Zato, F. Aparicio, A. de la Escalera. IET Intelligent Transport Systems, Vol. 5 (1), pp. 60-69, 2011
Far Infrared Pedestrian Detection and Tracking for Night Driving. D. Olmeda, A. de la Escalera, J. M. Armingol. Robotica., Vol. 29, pp. 495-505, 2011
Identifying and Tracking Pedestrians Based on Sensor Fusion and Motion Stability Predictions. B. Musleh, F. Garcia, J. Otamendi, J.M Armingol, A. de la Escalera. Sensors, Vol. 10, pp. 8028-8053, 2010
Driver drowsiness warning system using visual information for both diurnal and nocturnal illumination conditions. M.J. Flores, J. M. Armingol, A. de la Escalera. EURASIP Journal on Advances in Signal Processing, Vol. 2010, pp. 1-19, 2010
Real-time warning system for driver drowsiness detection using visual information. M.J. Flores, A. de la Escalera, J. M. Armingol. Journal of Intelligent and Robotic Systems, Vol. 59 (2), pp. 103-125, 2010
Vehicle Detection and Tracking for Visual Understanding of Road Environments. A. de la Escalera, J. M. Armingol. Robotica, Vol. 28, pp.847-860, 2010
Automatic Chessboard Detection for Intrinsic and Extrinsic Camera Parameters Calibration. A. de la Escalera, J. M. Armingol. Sensors, Vol.: 10, pp. 2027-2044, March 2010
Object learning and detection using evolutionary deformable models for mobile robot navigation. M. Mata, J. M. Armingol, J. Fernández and A. de la Escalera. Robotica, Vol: 26 pp: 99-107 Fecha, January 2008
IVVI: Intelligent Vehicle based on Visual Information. J. Mª Armingol, A. de la Escalera, C. Hilario, J.M. Collado, J.P. Carrasco, M.J. Flores, J.M. Pastor, F.J. Rodríguez. Robotics and Autonomous Systems, Vol: 55 pp: 904-916, Dic 2007
Speed Supervisor for Intelligent Vehicles. J.P. Carrasco, A. de la Escalera, J.M. Armingol. Lecture Notes in Computer Science, Vol: 4739 pp: 1175-1182, 2007
Adaptative Road Lanes Detection and Classification. J.M. Collado, C. Hilario, A. de la Escalera, J.M. Armingol. Lecture Notes in Computer Science, Vol: 4179 pp: 1151-1162, 2006
Pedestrian Detection for Intelligent Vehicles based on Active Contour Models and Stereo Vision. C. Hilario, J. M. Collado, J. Mª Armingol, A. de la Escalera. Lecture Notes in Computer Science, Vol: 3643 pp: 537-542, 2005
Multi-resolution Image Analysis for Vehicle Detection. C. Hilario, J. M. Collado, J. Mª Armingol, A. de la Escalera. Lecture Notes in Computer Science, Vol: 3522 pp: 579-586 2005
Visual sign information extraction and identification by deformable models for intelligent vehicles. A. de la Escalera, J. Mª Armingol, J. M. Pastor, F. J. Rodriguez. IEEE Transactions on Intelligent Transportation Systems, June 2004
Statistical pattern Modelling in vision-based quality control system. J.Mª Armingol, J. Otamendi, A. de la Escalera, J.M. Pastor, F.J. Rodriguez. Journal of Intelligent and Robotics Systems. Vol 37 nº 3 pp 321-336 2003
Traffic Sign Recognition and Analysis for Intelligent Vehicles. A. de la Escalera, J.Mª Armingol, M. Mata. Image and Vision Computing Vol 21 pp 247-258, 2003
Mobile robot localisation using a non-linear evolutionary filter. J. Mª Armingol , A. de la Escalera, L. Moreno, M. A. Salichs. Advanced Robotics. Vol 16 Nº 7 pp 629-652, 2002
A genetic algorithm for mobile robot localization using ultrasonic sensor. L. Moreno, J. Mª Armingol , S. Garrido, A. de la Escalera, M. A. Salichs. Journal of Intelligent & Robotic Systems Vol 34 Nº 2 pp 135-154, 2002
Localization system for mobile robots in indoor environments. M. A. Salichs; J. Mª Armingol , L. Moreno; A. de la Escalera. Integrated Computer-Aided Engineering. Vol 6, Nº4, pp 303-318. 1999
Road Traffic Sign Detection and Classification. A. de la Escalera; L. Moreno; M. A. Salichs; J. Mª Armingol. IEEE Transactions on Industrial Electronics Vol 44 Nº 6 pp 848-859 Diciembre 1997
Continuous Mobile Robot Localization by Using Structured Light and a Geometric Map. A. de la Escalera; L. Moreno; M. A. Salichs; J. Mª Armingol. International Journal of Systems Science Vol 27 Nº 5 pp 771- 782 Agosto 1996
Teaching
Perception Systems
Control Engineering I